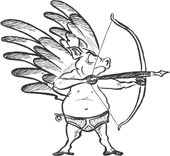 I have regular slots in a number of newspapers, magazines and websites and accept one-off commissions from a variety of clients.
I produce editorial cartoons (the big pieces of work that appear on comment pages and campaign websites), pocket cartoons (the little drawings that liven up news and letters pages) and different kinds of caricature. I can also work in strip format, create page-holding illustrations and animations.
I usually give clients a set of ideas or roughs to choose from and then work up one image in black and white or colour. I finish all my work on a Mac and send it out by email unless a print is required - so I can meet tight deadlines when necessary.