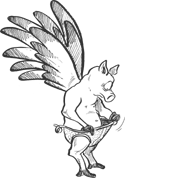 I am one of the country's best cartoonists. My work has been recognised by awards judges and the editors who employ me to produce cartoons, caricatures and illustrations for their digital and print publications.
I trained as a journalist, as my tag, Hack, suggests (a "hack" is a "penny a line, Grubstreet writer", according to the Oxford English Dictionary). I remain passionate about politics and the news in general, and about finding original, provocative and amusing angles on both.
I also chronicle aspects of my own life and have an abiding love of flying things - particularly elephants and pigs (which sometimes stray into my political work) and dragons (which don't).
more about me: 1989 - 1993 1994 - 99 2000 - present