Awards, events and notable commissions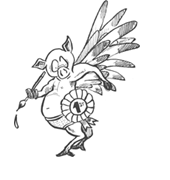 2004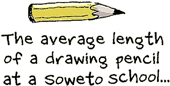 Exhibited work in 'Grin and Blair It', an exhibition of cartoons to mark the tenth anniversary of Tony Blair becoming leader of the Labour Party at The Mall Galleries in London.
Illustrated Picking the Bones, a book about the abuses of history by politicians written by the late historian Geoffrey Regan.
Took part in the Barnstaple cartoon festival and helped to draw the 'world's biggest political cartoon' in the library car park, alongside Steve Bell (the Guardian), Dave Brown (The Independent) and others.
Won a place on a prestigious cartoon exchange to South Africa, organised by the British Council, to mark ten years since the start of multi-party democracy. Some of the work was shown in Johannesburg and Cape Town in South Africa and at the Diorama Arts Centre in London.
choose a year: to 2010 2006 2005 2004 2002 1994 - 2000